USA - Eastern Daylight Time
Welcome to God's Little Acre, a little patch of land containing many Gardens, including inspirational and spiritual growth poems and stories, words of wisdom, just for laughs clean funnies, daily blessings, a Prayer Garden, and other pages of interest that I hope will bring growth, laughter, warmth and peace to your soul and spirit.
---
The Gardens at God's Little Acre
Prayer Garden
Are you or someone you know and love in need of prayer? Just leave your prayer requests for me and my prayer warriors at any time. Someone will begin praying as soon as the request is received.
Spiritual Growth Poems and Stories
Poems and stories to help you find your spiritual way in life.
Inspirational Stories
Stories to inspire you and touch your heart and soul.
Words of Wisdom
Quotes and sayings that really make you think and will help in your everyday life.
Funnies
Just for laughs! Christian and other just for fun clean humor.
Daily Blessings
A Daily Verse, Psalm, Proverb and Promise provided by Christians Unite
Daily Bible Stories
Everyone loves Bible stories! Go through the Bible in six months and then start all over again, In the Beginning...
For My Sister, In Memory
My tribute to my sister who desperately struggled with Bipolar Disorder and left this world way too soon.
My Pets
For Hawkeye and Buckshot. Say no to animal testing. "The question is not, can they reason? Nor, can they talk? But, can they suffer?"
---
We will never forget!
----------

I hope you enjoy my Facebook page.
Also, I've created a new group on Facebook called the
Prayer Garden at God's Little Acre
. Please feel free to join the group and leave your prayer requests for yourself or others that are in need.
God's blessings,
Rustie Sue
----------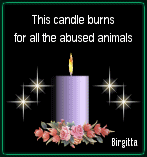 ---
---
God's Little Acre is Copyright
©
Since 2002 by Rusti - All Rights Reserved